[12.30.2016] Ceasing to Operate at Plaza Singapura Outlet.
Production will continues at commercial Kitchen located at Mandai.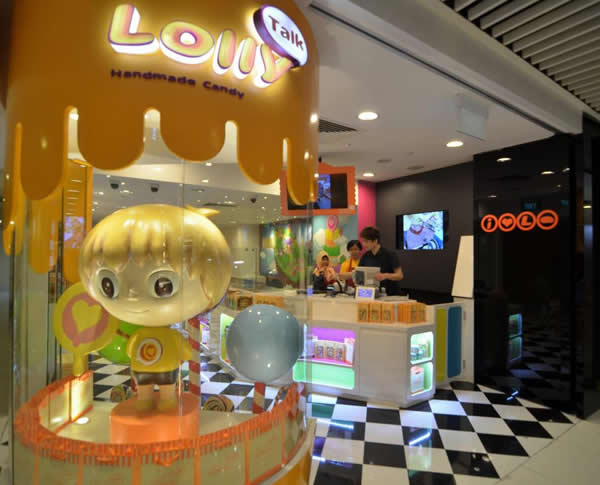 LollyTalk's retail outlet at Orchard Road Plaza Singapura will cease operations on 30th Dec 2016
after 4 years of serving customers with a complete retail experience.
We will continue to operate from our commercial kitchen located at Mandai
and will also continue to supply various resellers carrying LollyTalk island-wide in Singapore.
We have bigger plans, to be unveiled in days to come.
We also hope to position ourselves better in order to become
a stronger corporate gifting brand as well as a household brand.
If you are an existing customer,
our customer service personnel will have had already contacted you
to facilitate a smoother transition for collection of items.
If not, please do be patient,
as your order is of utmost importance to us
even during this long-planned transition phase.
LollyTalk started back in 2012 operating from a commercial kitchen at Ubi,
handling various corporate orders for numerous companies
as well as crafting wedding favors for countless wedding couples.
We decided to go into retail and opened our first flagship store at
Plaza Singapura, Orchard Road, with the grand opening on Australia Day (26th January 2013).
Do check out the video highlight of our Grand Opening Day….
http://youtu.be/clJp_CWgSVk
Everyone that came that day had a happy and fun time watching us making lollies,
just the way we did when we were in Queensland, Australia back in 2010!!!
Ever since then, we have happily served numerous corporate clients
and remained as the leading handmade candy in Singapore
for various corporations and organisations when it comes to getting their handcrafted gifts.
And having more than a million LIKEs on LollyTalk's Facebook page,
we are probably the most well-loved handmade candy maker in the world.
You really have to taste a LollyTalk
to know why so many people have chosen LollyTalk for their gifting solutions.
We will continue to work harder to serve the World's Best Fans such as YOU!!!!
If you ask us, where you can find a nearest LollyTalk…. we will answer you
-- you can find us easily in your Heart!!!
(email us info @ lollytalk.com to check for the nearest resellers' stores location
as well as enquiries on customization/bulk/corporate order)

To learn more about LollyTalk, check this out…
http://www.lollytalk.com/faqs.html